---
Aa



3 Cheap and Cheerful Classroom Activities for Christmas
6 min. reading
The festive season is almost upon us! Thanksgiving is just around the corner, and Christmas isn't far behind.
Whenever I'm stuck for ideas to get my class in the festive mood, these activities have always been a hit for my students!  I'm sure that they'll be a hit with yours, too!
This holiday,  try these fun and artsy ideas to bring cheer and joy to your classroom.  Let's get started!
1. "Roll-A-Snowman" Drawing Game
This is winter activity gets the kids involved in drawing a snowman as they play the "roll-a-snowman" game.
First the children  build some dice with snowman parts on the faces. Then they roll the dice to see which parts to add to their snowman drawing.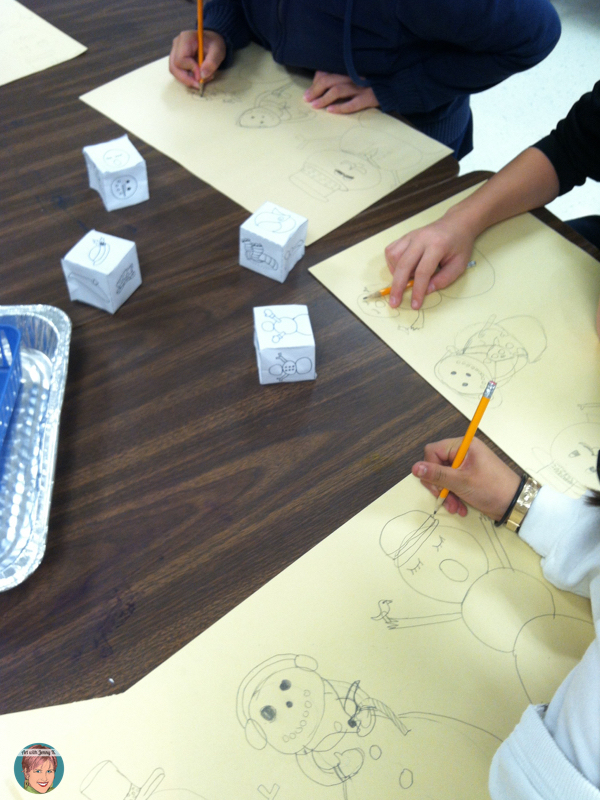 The engaging game results in an endless variety of snowmen, while the overall activity builds cooperation, fine motor and drawing skills.
To get started download the FREE dice templates and complete set of instructions from this link .
Then have students work in groups of four with each student building one of the four dice (from the included templates) that contains six different variations of standard snowman parts (body, head, arms, eyes/smile, scarf and nose).
Once the dice are constructed, then the game can begin! To play, start with the student who has the body. That student rolls the die to produce one of six possible bodies.
Whatever they roll is what they all draw on their piece of paper.
After all four players have drawn the body, have the next player roll the die with the head/face variations, everyone draws whatever is rolled.
Repeat this process with the dice for all the parts. Once a snowman is complete, have students start over and create another snowman!
Depending on the size of the paper and how large students draw their snowmen have them create 3 to 5 different drawings of snowmen—all on the same sheet of paper.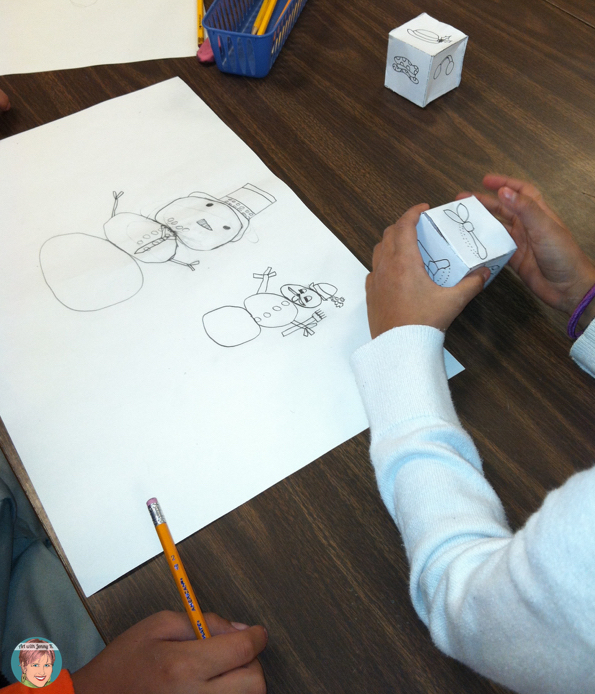 Once all the snowmen are drawn, have students add a background, outline their snowmen in markers and then color them in with the medium of your choice.
The result is a hand-drawn winter scene featuring a collection of interesting snowmen!
2. How to Draw an Elf
Here's another fun activity to help with fine motor and drawing skills. In this one, you take the kids step-by-step through the process of drawing a Christmas elf. At the end, they'll be amazed at their own abilities!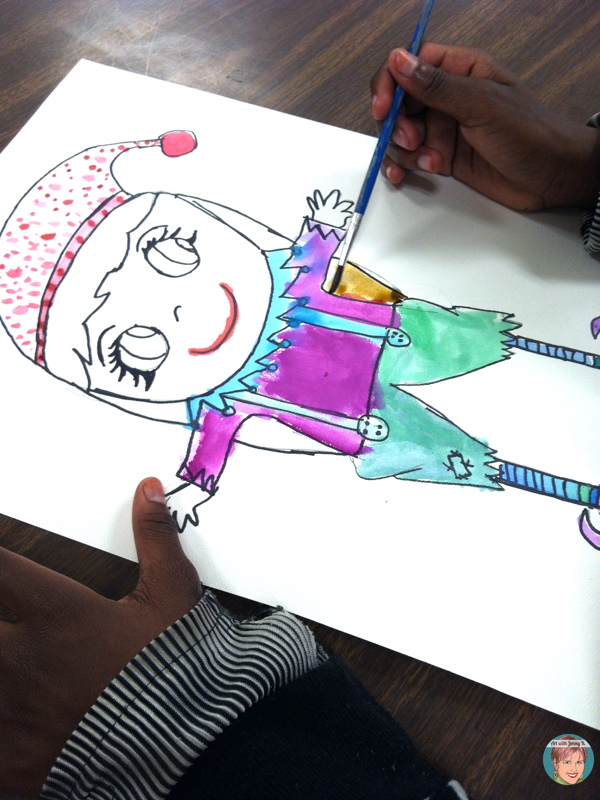 What to do…
First, print out the 6-step handout and have your students follow along as you show them, step-by-step, how to draw their pictures.
You can choose whatever size of paper you'd like. The students should use pencils so that making corrections is easier. I like to use 12" x 18" paper.
Next, after students have drawn their pictures with pencil, have them go over their pencil lines with black markers (permanent marker if you are going to paint).
Then they can color them in many different ways. You can use whatever materials you have on hand like colored pencils, markers, crayons, paint, etc. I especially like how they come out using watercolor paints.
Students should use their imaginations to create a background and fill the entire paper with color, so the finished product should have no white paper showing.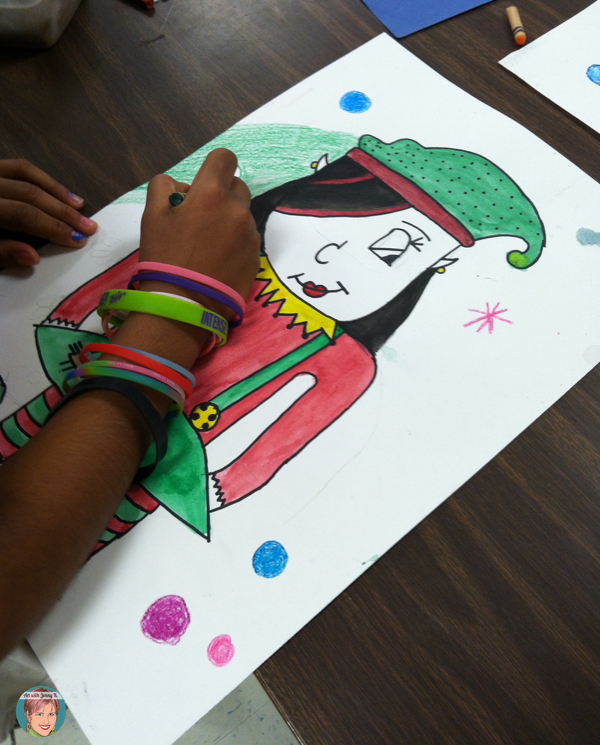 Encourage your students to use their imaginations—can they create Santa's workshop with the elves? Or are the elves at the North Pole?… Let the kids decide!
3. Shaving Cream Marbleized Paper Ornaments & Snow Globes
This is a super cool, hands-on (a bit messy) activity with an unexpected outcome!
I have taught this shaving cream technique for making marbleized paper—the central core of this lesson—literally hundreds of times to age groups ranging from 3 years to high school gifted programs.
It's fun, it's messy and it's really magical. I call it my "magic trick." I haven't met a kid yet that didn't get really excited when the magic is "revealed" at the end.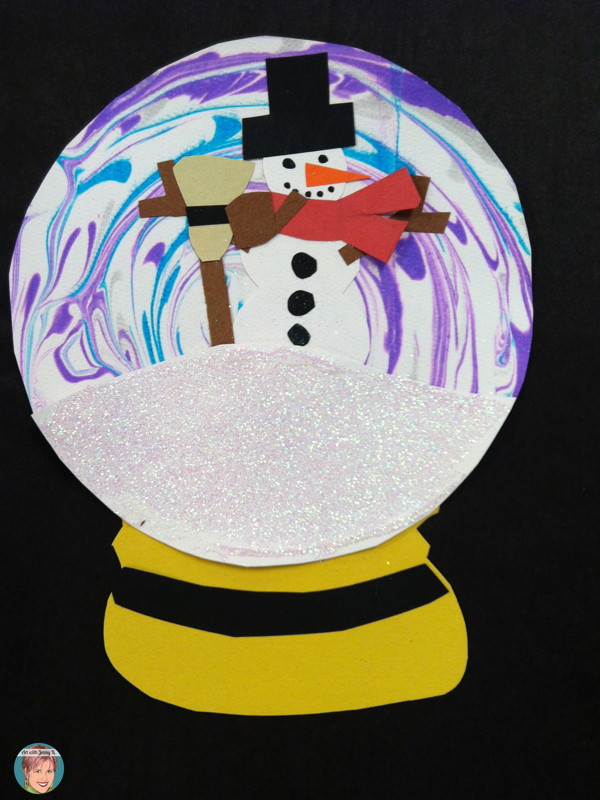 Snowman on a marbleized-paper background!With that said, this lesson is not a quick print-and-run kind of activity. It takes a little time the first time you do it to gather all the supplies you need and practice it yourself.
Once you have the supplies and know how to do this, you'll be very excited with your new-found "trick" and you'll use it at school, at your niece's birthday party and anywhere else you can come up with an excuse—it's that fun!
The best way to get an idea of this activity is probably to watch this video that I have made providing step-by-step instructions.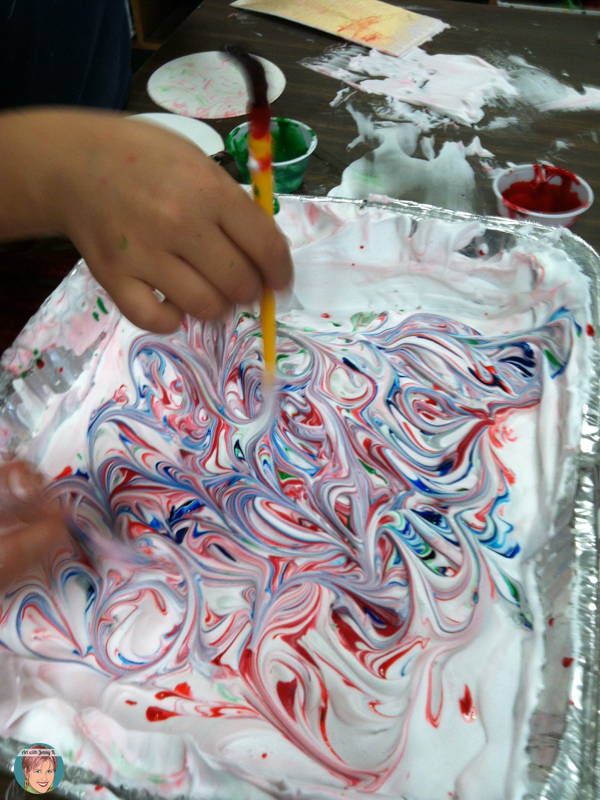 Marbleizing: messy and hands-on, but most of all, fun!I show my students the video and we go step by step together along with the video, pausing at each step.
Once you make the marbleized paper pieces, there are countless ideas of what you can do with them.
I hope you can try any or all of these activities this holiday season—your students will thank you for giving them the opportunity to do art in the classroom!
Happy holidays!
NEXT BENEYLU PSSST ARTICLE ...