---
Aa



7 Zones to take your Classroom Organization to New Heights
8 min. reading
Classroom organization is one of those things that's super important, but hard to get right.
Though it is is by no means perfect, I am loving my classroom set-up this year, and thought it might be useful to share my strategy with other resource teachers.
There is no reason to break the bank in the process of sprucing up your class environment. When I needed to create a Word Wall, I did it by taking a sad looking whiteboard which was already in my classroom and covering it with black contact paper – problem solved!
To give you an idea what I'm working with, I'm in a long, narrow room (12 x 30) that's about a third of the size of a regular classroom.
I'm by no means complaining–this size works great for my group! I don't have a homeroom, so I decided to do away with most of my desks. They were bulky and just taking up precious space.
I designed my classroom by zones, so I'll show it to you that way too! Here we go… 8 classroom zones and ways to spruce them up:
1. Get creative with your Whole Group Zone
A whole group zone is absolutely necessary for group activities! There are so many creative and inexpensive ways you can decorate one. Don't be afraid to think outside the box!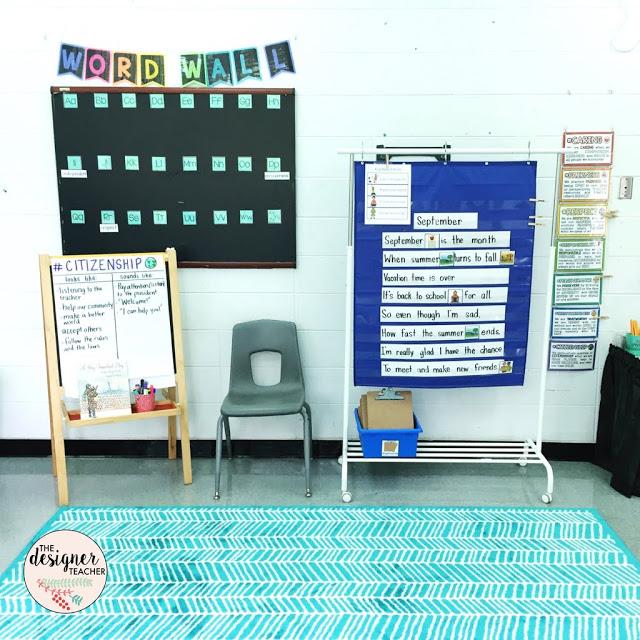 For mine, I use an inexpensive easel (also from IKEA) for my chart paper stand. To the right is my Clippin' for Character Chart from Sarah Plumitallo.
My word wall (not many words yet) is on the wall behind. There's no particular reason it's there, that board is just in an awkward place!
Two creative ways to use what you have to create an inexpensive Whole Group Zone:
Old whiteboards can serve as wonderful word walls. I took a really sad looking whiteboard and covered it with black contact paper to make it into a Word Wall. I made the word wall banner to coordinate with the other rainbow aspects in the room.
Clothes racks can come in handy, too. I use a clothes rack from IKEA for my large pocket chart, and keep some visuals and our weekly poem there.
You really don't have to break the bank to make your classroom environment and organization top notch!
2. Perfect your Small Group Zone
Perfect for activities where there are fewer people and a strong emphasis on cooperation, communication and teamwork, small group zones are a fundamental part of the classroom.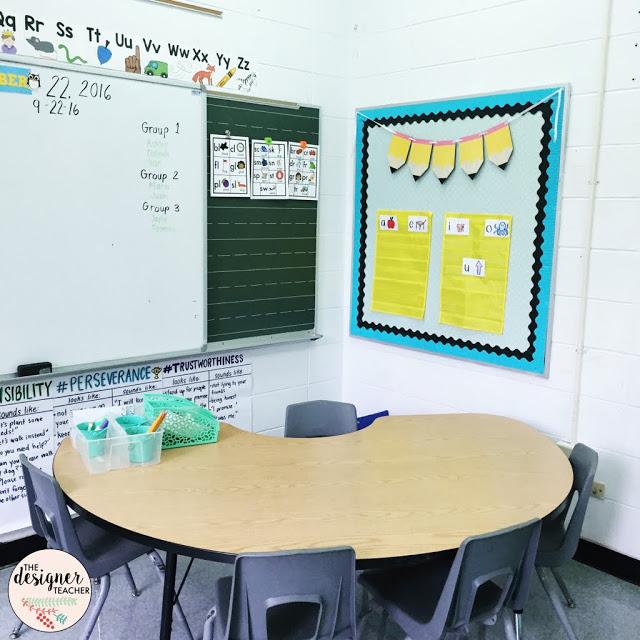 This is where I meet with my small groups and offer phonics instruction and guided reading.
I'm obsessed with having a! It's been impossible to get my hands on one for my last three years of teaching, so I was SO excited when one of my colleagues helped me out and gave me one of hers!
3. Create a Word Work Zone
I can't quite get the yellow tone out of this photo, but I promise it's bright and sunny in real life!
When students aren't working with me, they're usually in the word work zone. Be sure to design this area with a focus on promoting teamwork – whether that be smaller-sized tables or including as many stools as you can!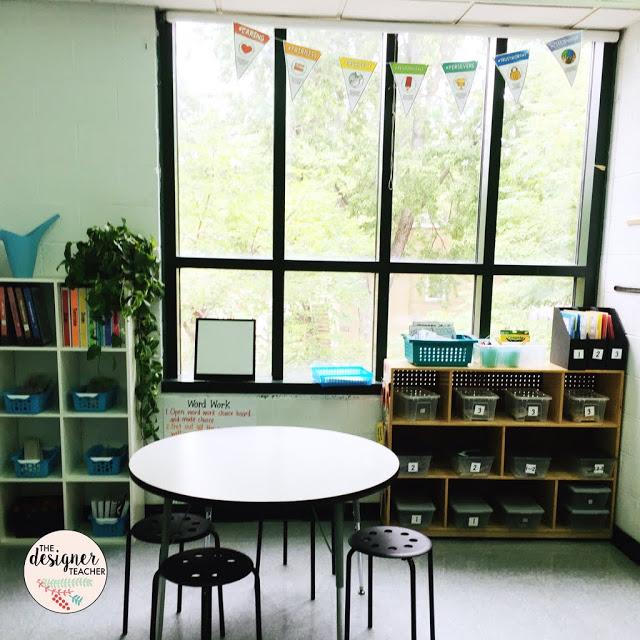 Students keep a word work choice board in their binders (the rainbow binders on the shelf), and they can see all their choices for the day there.
The tall white shelf holds sight word work, and students can grab their sight word rings from hooks on the lower shelf. The lower shelf holds differentiated centers and work tasks.
The number labels on the bins indicate what group does what tasks. Students can complete their word work at the circle table shown, or on the blue rug in the whole group zone, since no one is there at that time.
4. A Haven for Independent Work
This is great for when you have several individual groups working at once.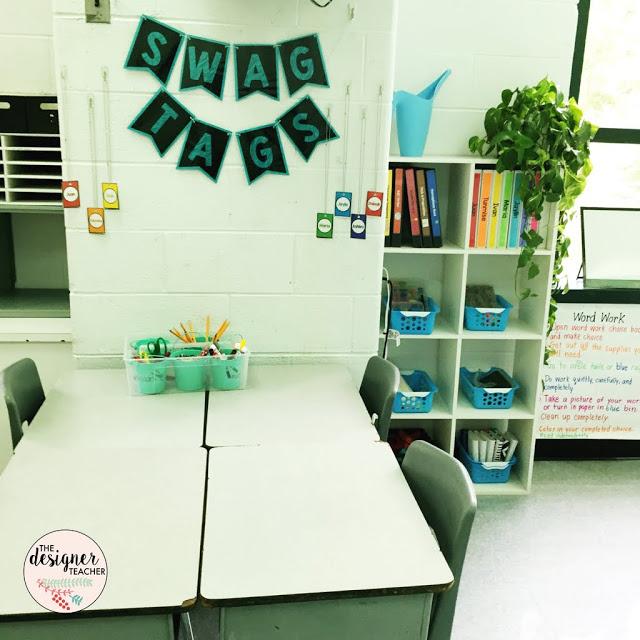 In our class, once a week, each group has independent work time while the other groups meet with me and complete word work.
These students grab their color-coded binder from the shelf, and open it up to the independent work section. They complete practice pages related to their phonics objective and then turn in their pages in a blue bin on the window sill.
We also have our swag tags display here!
5. Don't Neglect the Library Zone
Get creative in your library zone with:
Laundry baskets. The kids love curling up in the laundry baskets, and there's also a big blow-up ladybug not pictured.
Labelled trays. We are required to label our books by level at my school, so the bulk of the books are in bins A-Q.
I also have a few bins of nonfiction books by topic (that I couldn't level) on the bottom right. You can find the small white bins on Amazon, and the large green bins are from IKEA.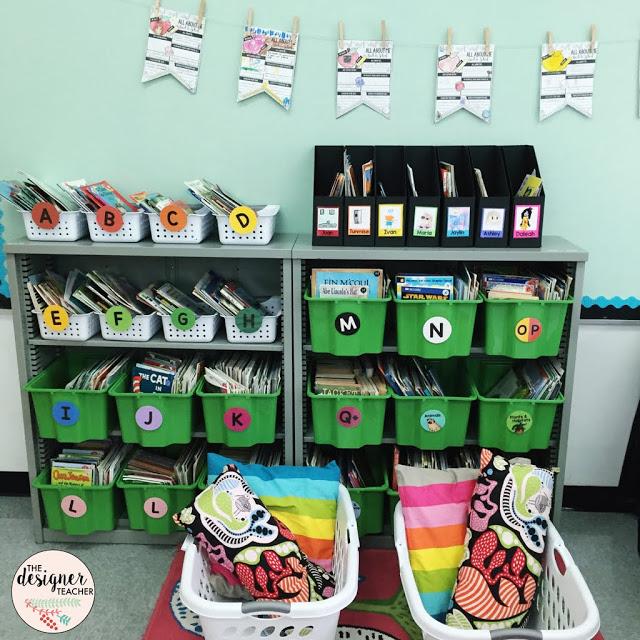 My library zone is on the far side of our narrow room, near my desk. Students' book boxes are here, as well as a few seating options.
6. Spruce up your Cool Down Corner
I think having a cool down corner is so crucial for those moments when one of your students needs a moment to regroup.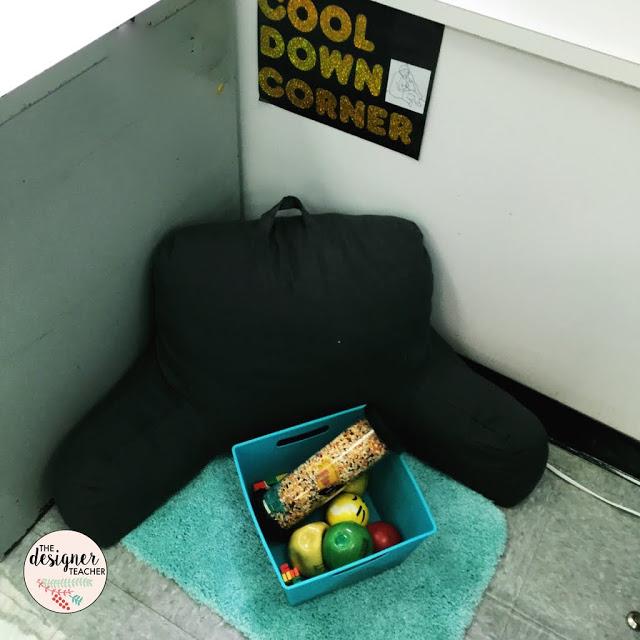 This year, my class's one is just tucked between a file cabinet and the wall. Some ideas based on how I've created mine might be to:
include a small rug and back rest for your students' comfort.
supply  a bin full of quiet sensory tools to help them calm down.And finally, if you have a teacher's desk in your classroom, don't be afraid to spruce it up to make it suit your personality…
7. Make your Teacher Zone as comfortable as possible
I know many teachers have moved away from having a teacher desk, but I LOVE having a personal area. It's great to have a place to sit and organize before and after school, and during lesson prep.
I didn't have one last year (I was sharing this same classroom with another teacher and caseload), and I just felt less anchored without it.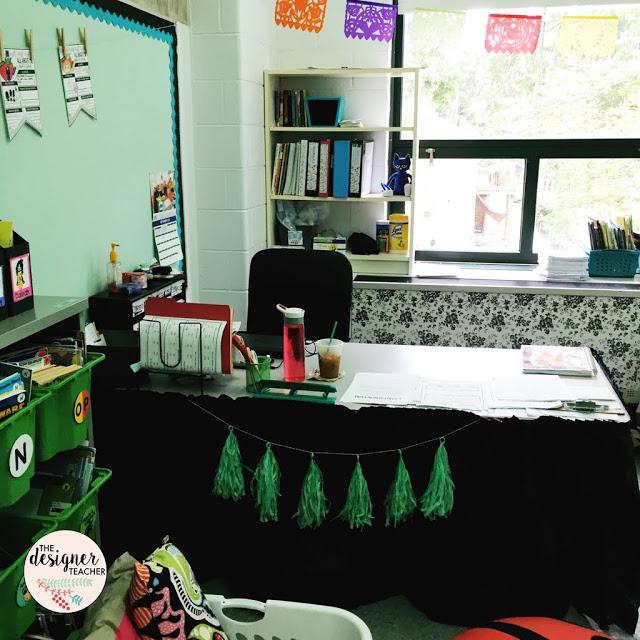 And there you have it! Even though there are so many things I still want to fix, and there are plenty of things in these photos that make me cringe, I truly love this space.
I hope this post is helpful for the other teachers out there! Let me know in the comments if you have any questions!
NEXT BENEYLU PSSST ARTICLE ...