---
Aa



Classroom Organization on a Budget: 5 Pinspired Tips
8 min. reading
I thought back to my first years of teaching – a very long, long, loooong time ago – and how much time and money I spent in those first years in creating my dream classroom.
I wanted to create a classroom environment that was inviting and engaging to my students.  I spent a lot of money in those first years and I always chalked up the expenses to the good of the classroom.
I thought I had to spend a lot of money to get the results I desired.
 When Pinterest hit the scene I soon realized that I didn't have the resources or the finances to create what others had.  However, when there is a will there is a way.  Over the years I found ways to create these ideas and make them my own; I just had to be creative and frugal.
I'm here to give you some of my top ideas and tips on how to get that Pinspired classroom that you have always wanted.  Are you ready to stop spending top dollar?  It's time to start thinking creatively with me.
I love to decorate my classroom. I take a lot of time and effort to work within my means, but at the same time make the classroom inviting – a place where my students want to be.
Over the years, I have learned a few ways to shortcut my overhead cost and still have the classroom looking "Pinspired".
1. White Board Borders
My classroom surprisingly does not have a lot of white boards; I only have one very small white board.  So the little room I do have needs to be maximized.
My whiteboard was very plain-looking and I wanted to make it a little more decorative.  While the traditional borders you can buy at most teaching stores are not necessarily expensive, they do come with their own shortcomings.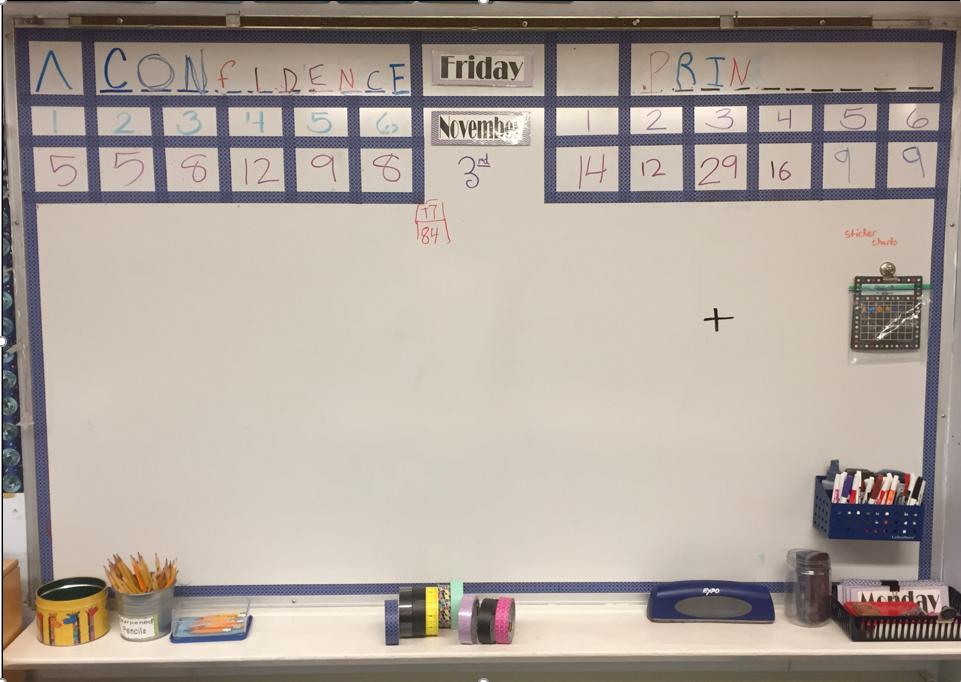 Often times you have to cut them down to size in order to fit the space with which you are working.  They are often very wide and thus use up a lot of precious space that is needed.
Additionally you have to have a way to hang them up.  This can be a bit frustrating.   A few years back I found a solution that works great for me.
Scotch tape has a line called Expressions. These come in a variety of widths, colors, and designs – they even come in glitter.  They are extremely sticky and come in rolls (about 5.5 yards per roll).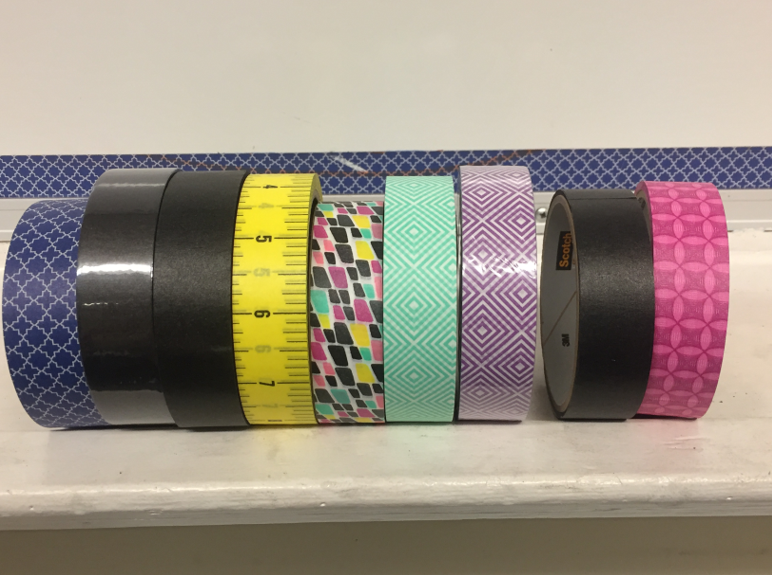 Not only will they adhere nicely to your whiteboards, but they can be customized to fit any size space you are using.   They will stay in place until you decide to remove them.
I leave mine up for the entire year, but you could certainly leave them up for longer.
They do not ruin your white boards or leave behind any sort of residue when you remove them.   Best of all they run under $3.00 a roll.
2. Fabric, Not Paper
Most classrooms will come with some sort of bulletin board(s) and almost all teachers will need to find a way to cover their bulletin boards first before they can decorate them.
Many schools provide a roll of butcher paper for teachers to use for free. While this sound like a wonderful and free way to decorate the butcher paper comes with its own set of drawbacks.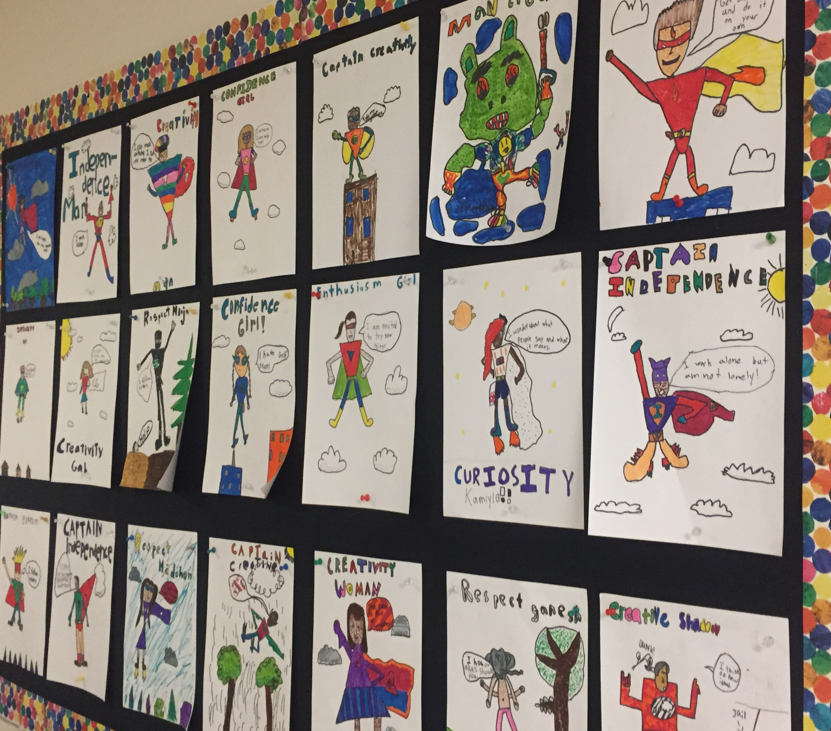 Often times the butcher paper is not the right size to cover the bulletin board and it is often prone to fading.  Fade-resistant paper can be bought, but it also comes with drawbacks like using multiple sheets to cover the bulletin board.
For teachers that prefer a pristine look, I have another option for you.  Think about purchasing fabric.   You can have the fabric cut to the exact size that you want and it will not fade.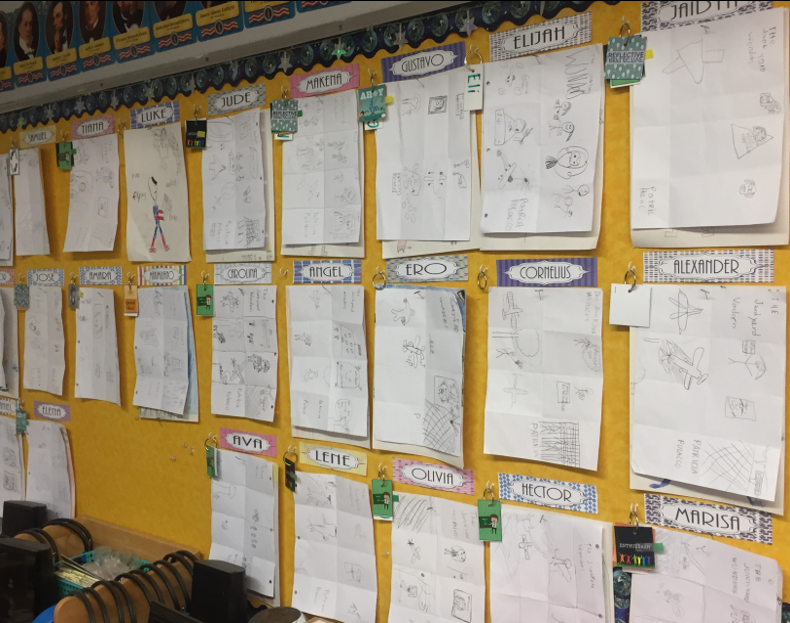 I have used the same fabric on my bulletin boards for the past twelve years.   I prefer black fabric, but you can use any color or design that you like. Sure it is a little bit of an investment (initially), but worth it in the long run.
My bulletin boards look clean and crisp, and they have not faded over time.
3. Lighting
I love having the lights turned off while the students work independently.
I don't have a lot of money to spend on lamps, but I still want a little ambiance for the kids.  Of course you could go and buy lights at the store, but I have another option for you.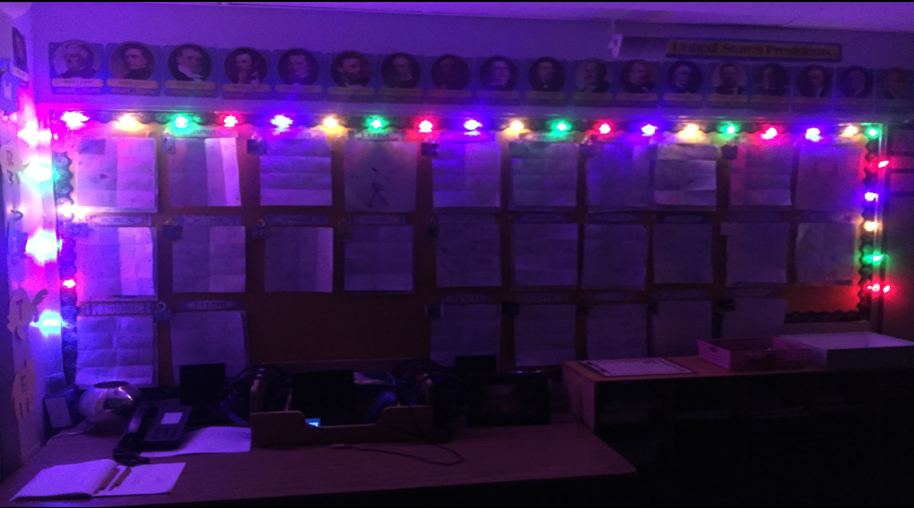 Many of us will have some sort of Christmas lights that we pull out during the holiday season; if not, you can find well-priced lights around the holidays at local shops.
What about the rest of the year?  Your decorative lights usually just sit in a box tangling themselves up waiting to see the light of day.  Why not use those lights in your classroom?   I place mine around the bulletin boards.
My favorite time to turn them on is when the students are working independently.  It keeps the atmosphere calm and the kids are able to focus on the task at hand.
4. Create your own Name Plates
Tired of how your handwriting looks?  Not the most spatially aware?   I really enjoy labels and organization.
Everything has a place in my room, so labels are a necessity.   Since I teach two classes of 27, I have a lot of student materials of which I have to keep track.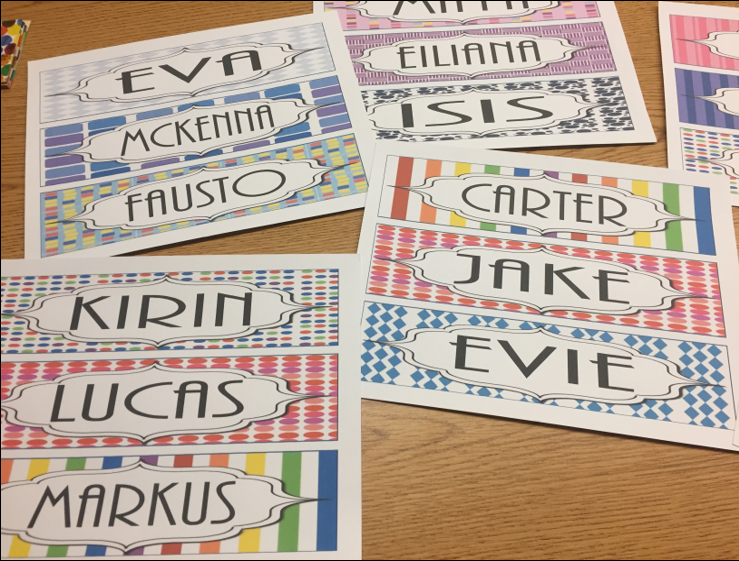 Creating labels has helped me keep my classroom organized.  I began creating labels a few years back, and by simply using Word on my computer I am able to create professional and pristine looking labels.
5. Flexible Seating on a Budget
Flexible seating is definitely a hot topic in education.  Not all of us can afford to get flexible seating for our students; so many educators are turning to Donors Choose.
This is a great way to raise money for your classroom and is backed by donors who want to support education.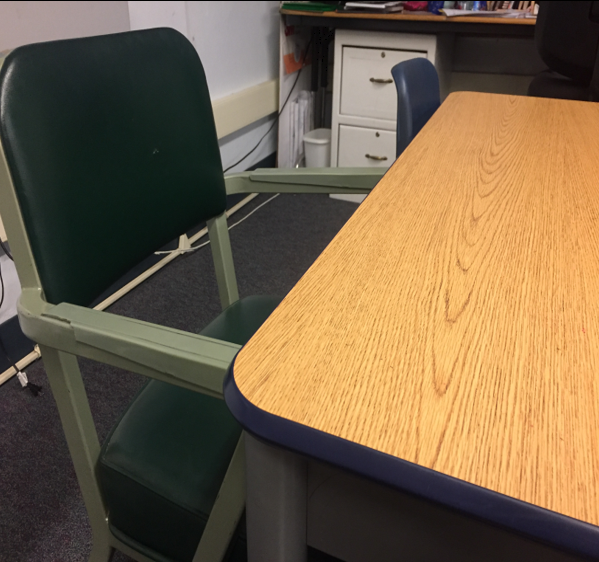 But what happens if your project is not fully funded?  You are left with having to figure out another way to get what you wrote in your proposal.
For me, flexible seating does not have to mean yoga balls, wobble chairs, and other forms of expensive furniture.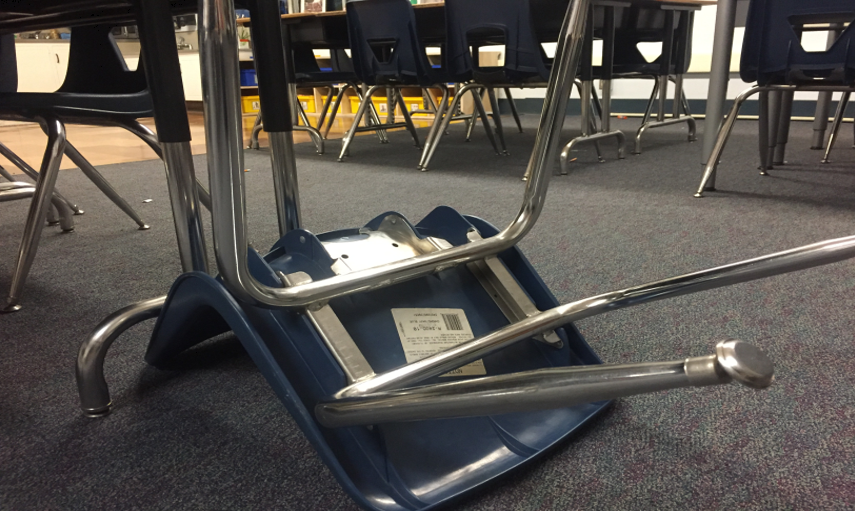 On very special occasions (or for earned rewards) my students get to flip their chairs. Students will take their existing chair and flip it upside down.  Their chair becomes an instant recliner.
(I would recommend that students use their backpacks or a blanket to give the chair a bit more padding).  Students really enjoy flipping their chairs for silent reading or to listen in to classroom discussions.
It also provides more flexible seating for your students. Remember, the little touches are what makes your classroom inviting.
Final Words of Advice
It is not about having the best or the most expensive items in your classroom. Remember to focus on what is important.
It is about creating lessons that engage and excite, building relationships, and teaching those all important life lessons.
Encourage your students to help make the classroom a place they want to be, listen to their input and, of course, think outside of the box.   This is going to be your best year ever.
NEXT BENEYLU PSSST ARTICLE ...