---
Aa




Sight Word Worksheets – Practice Makes Perfect!
4 min. reading
Practice makes perfect! Isn't that true for everything we learn? The more we practice, the better we get! This statement is so true when it comes to learning sight words.
Teaching sight words is such an important component to reading success, which is why I love to create fun and engaging resources to help students master sight words.
Here is what I do to teach sight words in my class: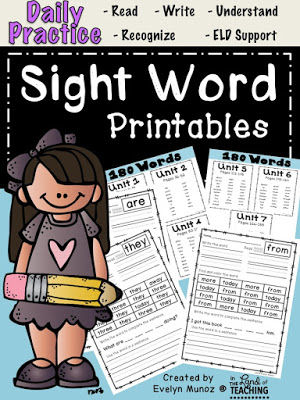 I love to use activities that help my students master subjects in a fun way! As I was in need of a fun and easy sight words practice worksheet for my kiddos, I decided to create one that would require… no prep! No laminating, no costly colored ink, and no cutting! Something to just print and teach one sight word at a time.
In addition, I wanted to incorporate sentence writing support for my language learners, as they usually have difficulty coming up with their own sentences. This idea led me to create these sight word practice pages!
The Six Essentials
Each page focuses on six skills that will help your kids master sight words:
1. Fluency:
I get students to color in with a crayon each time they read the word. They get a chance to practice reading the word four times.
2. Handwriting:
To support spelling and expose students to the sight words in a meaningful way, I get them to write out the word. This will also help them practice good penmanship.
3. Find a color:
The color it stage helps students read and recognize words while coloring the sight word in a group of 12 words. I made this part very simple, with no color code, so that students have the chance to paint them with their own favorites! This section also includes sight words from previous or future lists, giving students a chance to review or preview other sight words.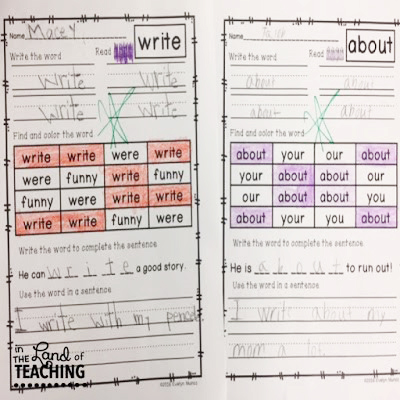 4. ELD support:
Sentence frames are one easiest ways to focus on language structure, provide support and serve as a guide for correct sentence formation. I get students to complete the sentence frame with the sight word. This is helpful for those students who struggle with sentence writing and for English Language Learners!
5. Writing:
This part supports correct sentence structure, capitalization and punctuation. It also helps students practice good penmanship. All the sentences are designed especially for beginning readers, and are mostly composed by short words.
6. Comprehension:
Students must understand the word to write a complete sentence. Writing a sentence using the sight word deepens their comprehension and helps them cement the word.
What's included?
The pack includes 180 high frequency words (sight words) taught in kindergarten and first grade. These words are introduced in the Macmillan/McGraw-Hill curriculum for Kindergarten and First Grade, but can also be used for struggling second graders.
I use these worksheets to help create a sight word practice routine in my classroom. This familiar activity enables students to complete the entire sheet independently after doing one or two pf them with you. You can use these for homework, whole group instruction, center work, individual practice, or however works best for you!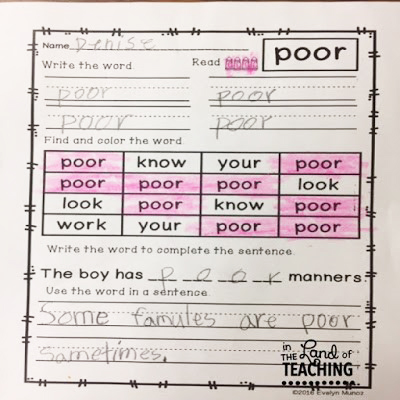 Here are some student samples! My kids love these activities. They have become very familiar with each skill, and everyone in my class is able to complete them independently!
And you? How do you use sight word activities in your classroom? Tell us!
NEXT BENEYLU PSSST ARTICLE ...